Bulk Processing of Payment Extensions

See attached document for details.
In response to the increased number of borrower payment deferment requests, LTi has developed an add-on utility that allows bulk modifying multiple contracts for payment extensions.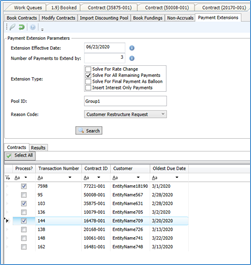 Related Articles

NEW FEATURE - Bulk Asset Processing - Tax Depreciation Code Update

To address potential issues that could arise from attempting to update tax depreciation codes from the Global Equipment Update from Equipment Work Queues, we have developed a new tool to specifically handle this process. Things to note: - Global ...

Bulk Pool ID Update

Bulk Pool ID Update There are various situations in which updating the Pool ID will allow you to process updates in Bulk through the Tasks > Bulk Contract Processing function in ASPIRE. The Pool ID can be used to select the contracts for update. ...

Bulk Generation of Documents for User Identified Contracts

See the attached document for details. The attached document provides the ability to batch generate and email documents for a group of user identified contracts. It also allows generating and sending a reminder to that group to sign and return the ...

Contract Modification - Payment Restructure Video

See linked video for complete information. The linked video covers the process of restructuring a payment schedule through a contract modification. Click here for the 5 1/2 minute video.

Cash Management – Payment Batch Posting

See attached document for complete details. The Cash Management screen allows payments to be applied to open customer invoices. Invoices can be found by searching based primarily on Customer, Contract, Amount or Invoice. Attached Document Table of ...